Fiction
Free downloads
Some of my fiction is available for free download on this site, or elsewhere on the web. There's a page with a detailed listing of the free stories. They're mostly m/m romance and gay erotica.
There are also free excerpts available for most of the commercially published stories. You'll find links to the excerpts in the bibliography.
Bibliography and printable list of titles
A full bibliography of my fiction with links to stories, excerpts, cover art and reviews.
A printable list of my fiction.
Most of my books are published by Loose Id, and you can find the solo-authored LI titles on my author page at Loose Id. You can also find many of my titles at third party retailers, including All Romance Ebooks, Amazon UK, Amazon US, Barnes & Noble, iTunes, Sony and its resellers.
If I understand what I'm looking at, you can also find my author pages on other national Amazon sites, Amazon France, Amazon Germany.
Recent sales and publications
Nice Tie Erotic romance novel, 42,000 words, contemporary, m/m. First published as an ebook by Loose Id by Loose Id on 1 April 2014. ISBN: 978-1-62300-771-3. More details and excerpt here.
Alex loves watching a man do up a silk tie, and he's just found the perfect eye candy on his morning commute. A pity Robin's his new client at work, and off-limits as a dress-up doll.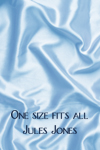 One Size Fits All Erotic romance short story, 3000 words, m/m, mild D/s. Reprint self-published through SmashWords 09 November 2013. It's amazing the things you can find when you rummage through your lover's underwear drawer.
My short story Bread and Butter Pudding has been accepted for the Dreamspinner Press anthology Not Quite Shakespeare, expected release date June 2014.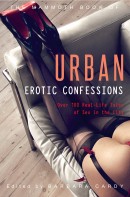 I've sold a short story to Barbara Cardy's Mammoth Book of Urban Erotic Confessions
, currently scheduled for release in May 2014 in the UK
, and June 2014 in the US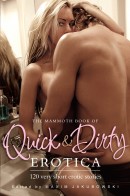 A Sparrow Flies Though. Erotica short story, 1,500 words, contemporary m/m, published in The Mammoth Book of Quick and Dirty Erotica, by Constable & Robinson in the UK
on 18 April 2013 (ISBN: 9781780337913), and Running Press in the US
on 25 June 2013 (ISBN: 9780762448135).
High tech cottaging provides a few moments of light and warmth on a dark cold night.
First Footer Erotic romance novella, 35,000 words, science fiction, m/m, set in present-day UK. Re-released by Loose Id, 23 January 2013. Matthew was hoping not to be single by the end of the New Year's Eve party, but the blind date promised by his matchmaking friend never showed up. The stranger who did was very strange indeed... More details plus cover and excerpt here.
(Originally published by Loose Id in the anthology A Kiss At Midnight -- now out of print).
And if I offered thee a bargain. Short story, published as an ebook by Musa Publishing's Erato imprint 7 September 2012. Contemporary fantasy with m/m content, 5,500 words, more details and an excerpt here. Please note that this is not a romance. (Previously published by Forbidden Fruit, but out of print for some years.)
This was a wonderful, passionate short story that keeps you reading from the very first line. -- AnnetteG
Fallen Angel Reviews: 4/5 and It is unusual for an author to create an intricate world within such a short time, but Mr. Jules's story is perfect just the way it is.
The Syndicate: The Honeymoon fragments. First two chapters and plot notes for the next Syndicate story, published on this website 12 January 2012.
Lord and Master 2: Taking Work Home. Second novel in the series, set between the end of the main section of the first book and their wedding. Published as an ebook by Loose Id, 19 August 2008. Contemporary erotic romance, m/m, 40,000 words, more details and excerpts here.
Ecataromance: 5/5 and Ms. Jones provides another delicious "meat and potatoes" style offering with Taking Work Home; spicy and satisfying with every "bite" taken.
Fallen Angel Reviews: 5/5 and Jules Jones has continued this series with the perfect sequel that answers many questions left by the previous story.
Lord and Master - Old Age Creeping Over Me. Novelette, set shortly before the start of the second book. Published on this website as a promotional piece, 9 August 2008. Contemporary erotic romance, m/m, 13,000 words. Complete story here.
Lord and Master - Flight of Dreams Short story in the Lord and Master series. Published on this website as a promotional piece 16 June 2008. Contemporary erotic romance, m/m, 7100 words. Complete story here.
It's set on Mark's thirtieth birthday, about two years after their wedding, i.e. some time after both the original novel and the forthcoming sequel. This is a standalone and you don't need to have read the novel first, though obviously you'll get more out of it if you already know the characters. For those who wanted to see something from Steven's POV, here's your chance.
Yule Novelette published as an ebook by Loose Id, 18 December 2007. Contemporary erotic romance, m/m, D/s, 9,000 words, co-author Lindsey Mullen, more details and excerpt here.
Literary Nymphs: Jules and Lindsey delivered a wonderful holiday story that is sure to please readers of BDSM.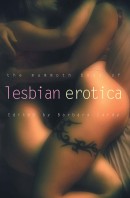 Love is Blind Short story (with Alex Woolgrave). Published in Constable & Robinson's Mammoth Book of Lesbian Erotica anthology, 30 August 2007. Softcover, ISBN 9781845294779. US edition published by Carroll & Graf, The Mammoth Book of Lesbian Erotica
, ISBN 9780786720446. Contemporary erotic romance, f/f, mild BDSM, 2800 words. It's a hard life being a writer's partner, especially when they want to try out an idea for practicality -- at four in the morning...
Black Leather Rose Novelette published as an ebook by Loose Id, 12 June 2007. Contemporary erotic romance, m/m, mild D/s, 11,000 words, more details and excerpts here.
Night Owl Romance: Reviewer's Top Pick, 4.5/5 and This is a beautifully written short fic, full of emotional realism and deft observation, which lifts it well out of the common run.
Literary Nymphs: 4/5 and Black Leather Rose is a fiery romance packed into a short story... A quick read that's sure to leave you wanting more.
Dolphin Dreams Published as an ebook by Loose Id, 3 April 2007. Paranormal erotic romance in a contemporary setting (dolphin shapeshifters), m/m/m menage, D/s, 100,000 words, more details and excerpts here.
Coffee Time Romance: Jules has written an exceptional story that spell bounds and keeps the reader turning the pages until the end.
The Romance Studio: Dolphin Dreams is a highly original and exquisitely told story of love and trust like I've never read before.
Work in progress
Or not in progress, as the case may be. Most of this isn't being actively worked on at any particular time. It's stuff that will happen eventually, and in many cases there's a significant chunk of it already in existence. Things that show up in this section are often short stories or novelettes that will be reworked into novels. I've got a bad habit of starting to write a short story for an anthology, and ending up with something that gets accused by beta-readers and editors of being the synopsis for a novel. If it's listed here, they can see what its current status is without nagging me about it.
Taxman -- urban fantasy set in contemporary London. Subject of a whine in rasfc about not sure whether it's one for an sf publisher or a romance publisher, but currently being aimed at the latter. The current work in progress, after having been laid aside for some years.
Lord and Master 3 -- I have a plot and the first 15 18 kwords. It may be a while before there's any more than that.
Buildup 3 -- I will write it one day. I swear I will...
Work not in progress
"He's dead, Jim." Some things are now in the "abandoned" category, for various reasons.
Dec 2011: In particular, it's highly unlikely that most of the partials co-written with Alex will ever be finished -- she's been seriously ill, is effectively unable to write commercial fiction for the forseeable future, and will probably not be able to pick up several of our joint projects even when she recovers. One of them I might be able to finish solo, but most of them were very much the product of the interaction between us. I might put up the fragment of the Syndicate honeymoon story that exists, if the beta-readers say that what's there is worth reading as is. (ETA Jan 2012 - the Syndicate honeymoon fragment and writers' notes are now available on the site.)